Okay not a guide maybe, but I want to share the experience so that others don't have to go through it blindly as I did. This was done on the exhaust on my 2008 S3
Good day to you.
There are many threads about the "pre-cat", and I thought I had one too, but after searching for hours for pictures and how-tos, I finally understood that late 2007 and onwards skip the pre-cat in the header and get a more real catalytic converter. It is located behind the heatshield by your feet.
I saw a thread where Power-Trip had tuned a bike where they had cut it out and everything was great. I wanted to do it too. So i took my exhaust off and took a look inside.
This is what i found.
It looks all schlurped. Is this why my S3 has trouble to reach 220KMH/137MPH? Everyone talks about how their bikes lift off i second gear (and maybe even third) while my bike lifts maybe 1 centimeter if I give sudden full throttle at 6500RPM (second gear) with my girlfriend behinde me on the seat.
This is about how it should look.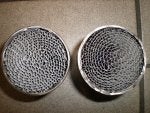 So my warped CAT decided for me. To hell with it. Someone told me to hammer at it. "It will be out in 2 minutes". Hohohohoooo no.
This thing is superwelded to the inside of the exhaust, so I had to cut it open. With no pictures or guides to go by I started cutting.
After cutting the lenght of the weld I saw that I didn't have to go all the way, so I just cut the bulge across the middle. That wasn't enough though, as the cat-tube is welded to the inside just before the bulge gets bigger.
(I've paintet where the inside weld should be in red)
So I had to cut some more. I ended upp with four pieces. You can see where the cat-tube is welded to the inside of the exhaust in the lower piece to the left.
And here is my nemesis.
Edit:
I had it welded! Hope it still fits.
I would do this very differently if I knew what I know now. I would cut it all the way around just after where the cat-tube is welded to the inside, about where the bulge begins to get larger. Then I would secure the cat-tube in a vise, take a chisel/flat screwdriver and hammer away along the inside of the cat-tube (as i did to clean out all the catalyst-stuff where it was still stuck to the inside of the cat-tube.) Then weld it together again.
That should do it.
I had no guide or experience, but if there is someone out there who wants to get their catalytic converter out of a late 2007 or older S3, then I hope that this post can help you.