Discussion Starter
·
#1
·
Okay,
So I've been lookin' to upgrade from the pw 80 ;D and have been doin' some research online. Unfortunately for me, whatever I get needs to be able to be lowered to about 28 inches seat hight so I can flat foot. I can honestly say that I don't like the look of the Nighthawks or the Ninja 250's (Have you seen the new ones? Who the fuck paints flames on a 250? Just seem counter intuitive. :wtf: ) And have been told that there's no lowering kit for a Ninja 500
. Of course, since Cata got into the naked bikes, I'm liking the look more and more and the fairings less and less. So I'm now I'm thinkin of a Suzuki GS500E. (Been told there's no lowering kit for the SV650 either). Let me know what you guys think. Suggestions/comments/etc. are always appreciated or if anyone in the North East has a good bike for a little girl. I'll least I'll still be able to wear the ride naked t-shirt Bucket sent. Where the hell has Bucket been anyway? (Devious....I'm really curious to see what you have to say).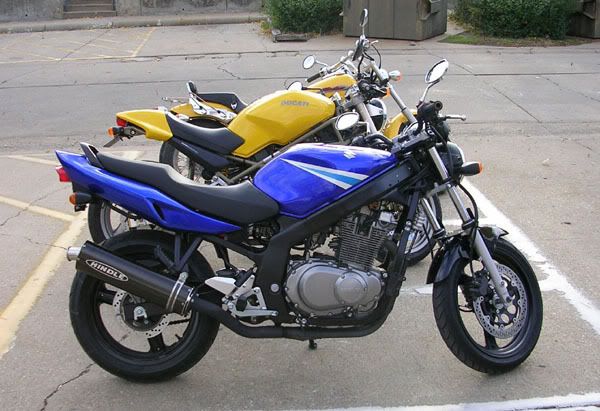 --LC
What the Fuck Was THAT!!!! My deepest apologies to anyone who saw that! MY EYES! MY EYES!