Discussion Starter
·
#1
·
So, the BST's were a bit steep--but don't dispair! There's a new player on the wheel seen who will have a mag solution pretty soon. (Thanks to another lister who may wish to remain anonymous for the tip!) The company is Durrani-
http://www.durraniracing.com/index.html
- You can read all about the technology there, but the really important thing is that they're cool, light, and $1098 for a set! They come in 6 standard colors and can be had in any custom color for an additional $198 Here's a picture: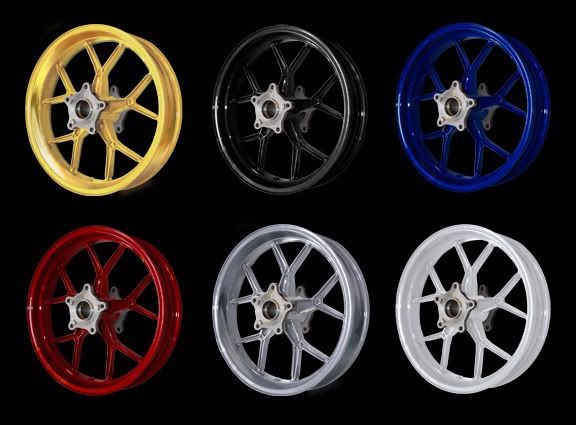 I'm trying to put together a group buy and hope I can get at least 10 of you blokes to pony up. The price will be $1098. That's right, there's no more break than you can get right from the site. So here's why you should buy them through me:
1. They have a SSA wheel due out on May 15, but its not Triumph/S3 specific. So to make sure we get what we need I'm sending him the stock wheels off my bike to make sure we get what we need. That means you still get to ride while my scoot's up on jacks. I'm gotta work on the header anyway, so its not quite as bad as it sounds, but you should feel sorry for me anyway.
2. You get me to take care of any problems.
3. I make $100 per set (10 set min. order, as in $10,000), which ain't much by the time I do all the phone calls and legwork.
4. You really, REALLY want me to establish a relationship with these guys! The owner, Sheryar Durrani, is a great guy with some incredibly cool ideas and the juice to get them to market soon. To protect from industrial espionage (I kid you not!) I can't talk about the stuff. I will say that we're not talking about any bling here. We're talking big parts that weigh maybe 1/2 of stock, work better, and are priced as reasonably as the wheels. His goal is to sell the stuff for about what it would cost to buy the stock stuff. That pricing is why there's so little room on the wheels, which is not so great for me, but still exciting.
I better stop before I pee my pants.
So how about it? You guys ready for the wheel deal? Let's roll!
I'll put this on TRAT too.
:squid: